Creamy Tomato Soup with croutons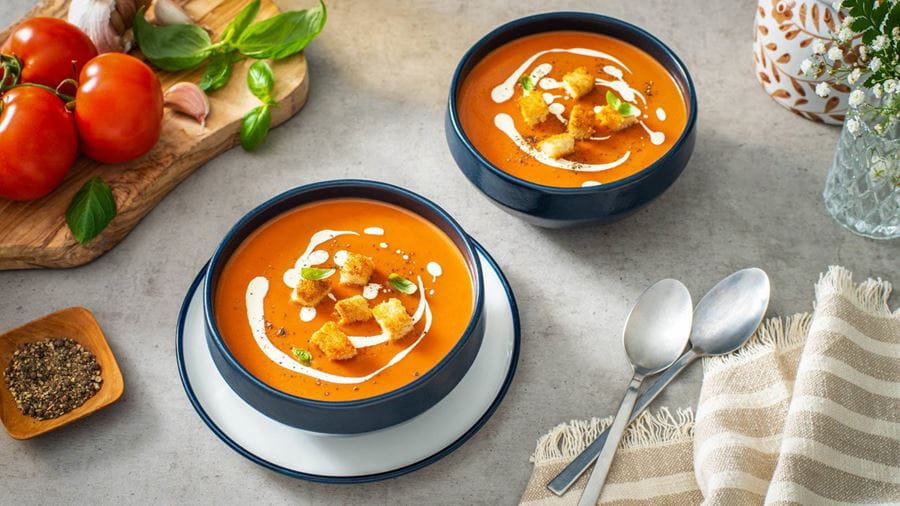 Ingredients
2 tablespoons (30 mL) Becel® Vegan Margarine
1 medium yellow onion, chopped
2 tablespoons (30 mL) flour
1 (794 mL) can whole peeled tomatoes in juice
1 cup (250 mL) vegetable broth
1 tablespoon (15 mL) tomato paste
1 teaspoon (5 mL) salt
1 teaspoon (5 mL) sugar
1/2 teaspoon (2 mL) dried basil
1/4 teaspoon (1 mL) crushed red pepper flakes
1/4 teaspoon (1 mL) salt free Italian seasoning
1 cup (250 mL) Becel® Plant-based Whipping Cream
Plant Butter Croutons
3 cups (750mL) diced bread (3/4'' cubes)
3 tablespoons (45 mL) Becel® Vegan Margarine, melted
a pinch of salt
Nutritional Guidelines (per serving)
(Nutrition information is calculated using an ingredient database and should be considered an estimate.)
Instructions
Melt Becel® Vegan in a large pot over medium heat. Add the onions and cook for 5 minutes, or until lightly browned. Add flour and cook, stirring constantly, for 1 to 2 minutes.
Pour the tomatoes and vegetable stock into the pot. Then add tomato paste, salt, sugar, dried basil, crushed red pepper and Italian seasoning. Bring the soup to a boil, reduce heat, cover with a lid, and simmer for 15-20 minutes.
Transfer the soup to a blender, and blend until smooth. Return soup to the pot and stir in the Becel® Plant-based Whipping Cream. Serve immediately with croutons.
Plant Butter Croutons
Preheat the oven to 350ºF. Position an oven rack to the center position.
Transfer the diced bread to a mixing bowl.
In another bowl, whisk together the melted plant-based bricks, and salt. Pour the mixture over the diced bread. Stir to coat the bread cubes with the melted Becel® Vegan.
Spread the bread cubes over a baking sheet. Bake the bread for 18 to 20 minutes, until the croutons are golden. Stir the cubes halfway through baking. Let the croutons cool to room temperature before adding to soup.