Potato au Gratin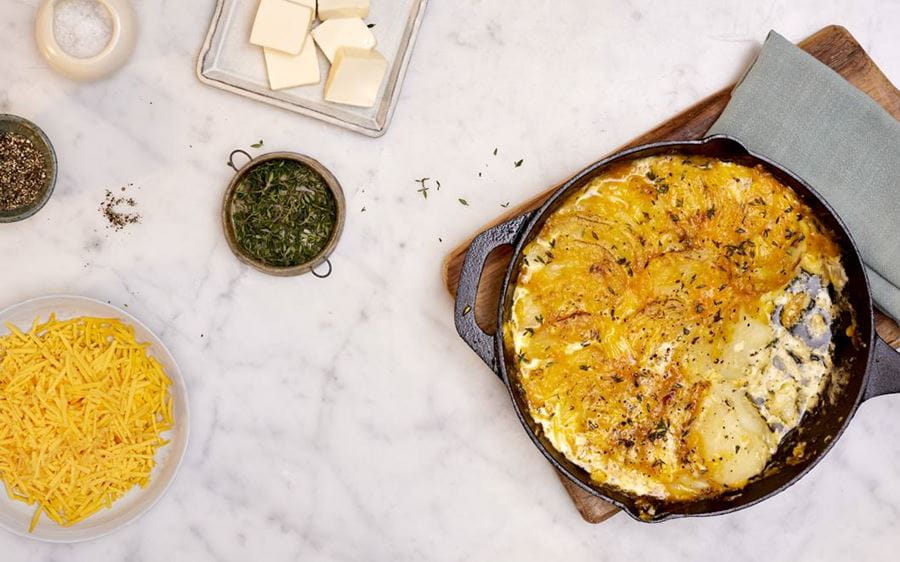 Ingredients
1 tablespoon (15 mL) Becel® Vegan Margarine
1 kilogram russet potatoes scrubbed and sliced 1/4'' thick
1 teaspoon (5 mL) salt
1/8 teaspoon (0.5 mL) black pepper
1 cup (250 mL) Violife 100% Vegan Just Like Cheddar Shreds, or vegan cheddar cheese shreds of your choice
1 1/4 cup (310 mL) Becel® Plant-based Whipping Cream
Nutritional Guidelines (per serving)
(Nutrition information is calculated using an ingredient database and should be considered an estimate.)
Instructions
Arrange a rack in the middle of the oven. Preheat oven to 325°F.
Coat the inside of an oven safe skillet with Becel® Vegan Margarine.
Arrange layers of potato slices in the skillet, and sprinkle salt and black pepper evenly over the potatoes.
Distribute Violife® cheese shreds evenly on top of the potatoes.
Pour Becel® Plant-based Whipping Cream into skillet, and bring to a simmer over medium-high heat.
When the plant-based whipping cream is simmering, transfer skillet to the oven and bake for 1 hour, or until potatoes are cooked and lightly browned on top.