Plant-Butter Chickpeas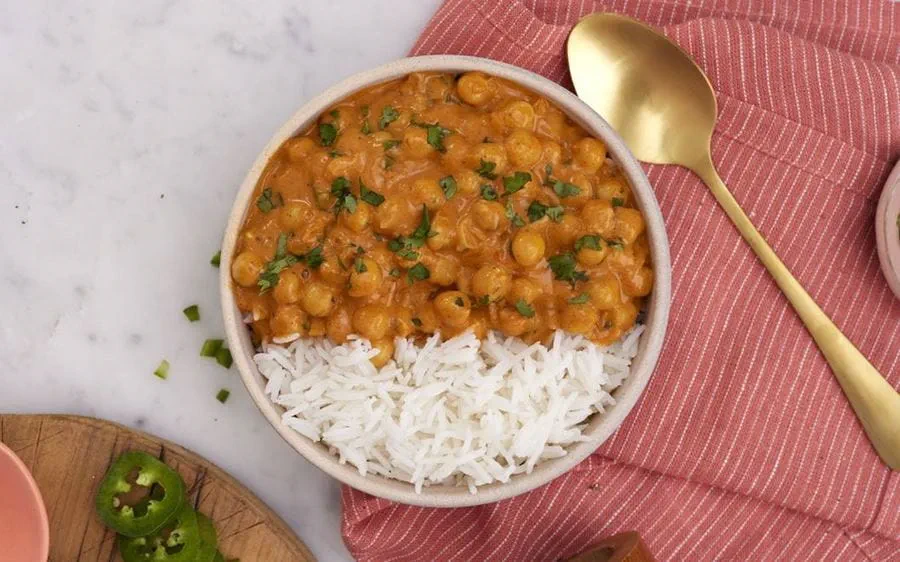 Ingredients
1/4 cup (60 mL) tomato paste
1 cup (250 mL) water
1 teaspoon (5 mL) peeled and grated fresh ginger
1 cup (250 mL) Becel® Plant-based Whipping Cream
1 teaspoon (5 mL) garam masala
3/4 teaspoon (3 mL) salt
1/4 teaspoon (1 mL) sugar
1 small jalapeño, seeds removed, finely chopped
1 tablespoon (15 mL) finely chopped cilantro
1 tablespoon (15 mL) fresh lemon juice
1 teaspoon (5 mL) ground cumin
1/4 cup (60 mL) Becel® Vegan Margarine
2 (425g) cans chickpeas, drained
basmati rice, for serving
Nutritional Guidelines (per serving)
(Nutrition information is calculated using an ingredient database and should be considered an estimate.)
Instructions
In a mixing bowl, whisk tomato paste and water together. Then add ginger, Becel® Plant-based Whipping Cream, garam masala, salt, sugar, jalapeño, cilantro, lemon juice, and cumin, and stir well.
Melt Becel® margarine in a large pan with straight sides, or a sauce pot. Add the tomato and plant cream mixture and the chickpeas to the pan. Bring to a simmer, and simmer the mixture until has reduced by half, about 20 minutes. Stir frequently with a heat-safe rubber spatula.
Serve with cooked basmati rice.