Single Serve Lava Cake
Vegan and Gluten Free!
Prep time

5 min

Servings

Portions 1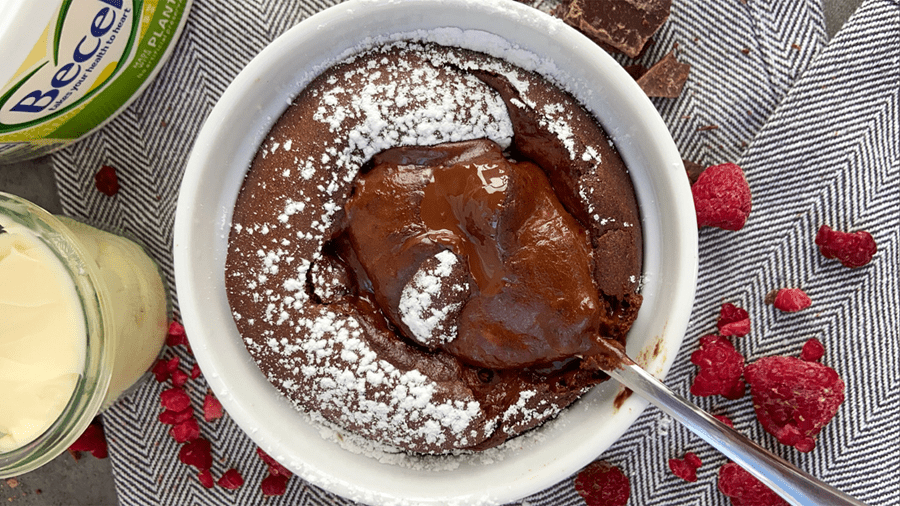 Ingredients
1/4 cup + 2 tbsp gluten-free oat flour or 1:1 gluten-free baking flour (or all purpose flour if not gluten free)
2 tbsp cocoa powder
1/2 tsp baking powder
2 tbsp pure maple syrup
1/4 cup + 2 tbsp almond milk (or any dairy free milk)
1 tbsp Becel® Vegan, melted
2 oz unsweetened vegan chocolate
Nutritional Guidelines (per serving)
(Nutrition information is calculated using an ingredient database and should be considered an estimate.)
Instructions
Preheat oven to 350F. Lightly grease large ramekin with cooking oil. Any oven-safe bowl or mug can be used instead of a ramekin.
In a small bowl, stir together the flour, cocoa powder and baking powder. Add in remaining ingredients, except the chocolate, and stir to combine.
Pour ¾ of the batter into the greased ramekin. Place the chocolate pieces in the centre of the batter. Pour remaining batter on top of chocolate to cover.
Place ramekin on a baking sheet (to catch any overflow, if necessary) and bake for 12 to 15 minutes.
Optional: Sift 2 tbsp of icing sugar over top of cooled cake to create a light sugary dusting before enjoying.
This recipe is gluten free & vegan (if Becel vegan spread is used). If celiac, ensure that the oat flour used is all certified gluten free.