Vegan Quinoa Ratatouille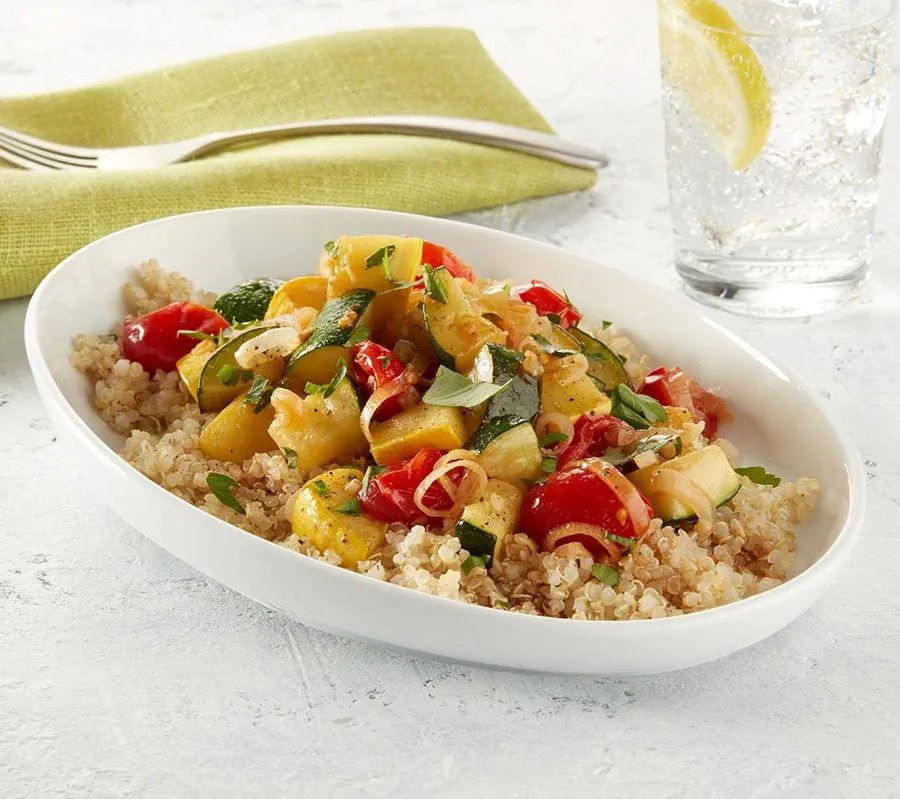 Ingredients
3 1/2 cups (875 mL) low salt vegetable stock or water, divided
1 1/2 cups (375 mL) quinoa
6 Tbsp. (90 mL) Becel® Vegan margarine
2 small zucchini and/or yellow squash, chopped (about 4 cups/1 L)
2 cups (500 mL) cherry tomatoes, halved
1 large shallot, thinly sliced (about 1/2 cup/125 mL)
1 clove garlic, chopped
2 Tbsp. (30 mL) chopped fresh basil leaves or parsley
Nutritional Guidelines (per serving)
(Nutrition information is calculated using an ingredient database and should be considered an estimate.)
Instructions
Bring 3 cups (750 mL) broth to a boil in medium saucepan over medium-high heat. Stir in quinoa and 2 Tbsp. (30 mL) Becel® Vegan margarine and return to a boil. Reduce heat and cook, covered, until water is absorbed, about 15 minutes. Remove from heat and fluff with fork; set aside.
Meanwhile, melt remaining 4 Tbsp. (60 mL) margarine in large nonstick skillet over medium-high heat and cook squash, tomatoes, shallot and garlic, stirring occasionally, until lightly browned and tender, about 10 minutes.
Spoon quinoa onto serving platter, then top with vegetables. Add remaining 1/2 cup (125 mL) broth to same skillet and and bring to a boil over medium-high heat. Cook until reduced by half, about 2 minutes. Pour over vegetables and quinoa. Sprinkle with basil.