Banana Bread Gran'oat'la
We can't OATver state it: The whole family will go bananas for this recipe ~
B-A-N-A-N-A-yes!
Cooking time

25 min

Prep time

5 min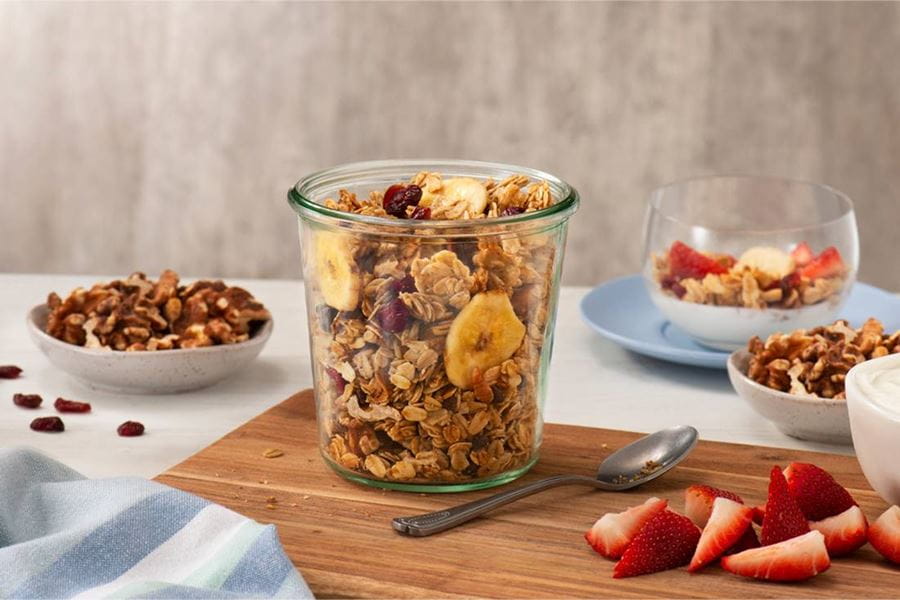 Ingredients
1 very ripe banana
1/4 cup (60 mL) Becel with Oat M!lk, melted
1/4 cup (60 mL) maple syrup
1 teaspoon (5 mL) ground cinnamon
1/4 teaspoon (1 mL) salt
1/8 teaspoon (0.5 mL) ground nutmeg
3 cups (750 mL) rolled oats
1 cup (250 mL) coarsely chopped walnuts
1/2 cup (125 mL) banana chips, coarsely crushed
1/2 cup (125 mL) dried cranberries, strawberries or blueberries
1/2 cup (125 mL) mini vegan chocolate chips
Nutritional Guidelines (per serving)
(Nutrition information is calculated using an ingredient database and should be considered an estimate.)
Instructions
Preheat oven to 350°F (180°C). Line 2 baking sheets with parchment paper.
Mash or puree banana in large bowl. Stir in Becel with Oat Beverage margarine, maple syrup, cinnamon, salt and nutmeg.
Stir in oats and walnuts. Spread mixture evenly onto prepared baking pans.
Bake 25 minutes until oats are golden brown. Stir once during cooking and rotate baking sheets halfway through cooking.
Cool completely on wire rack. Stir in banana chips, dried berries and chocolate chips. Store granola in airtight container or jar for up to 1 month. Makes about 6 cups granola.
~ If you like granola that's on the chunkier side, stir gently to avoid breaking up the clumps. If you prefer a more crumbly granola, toss it a bit at the halfway point to break it up. ~ To make a tropical-style Banana Bread Granola, omit chocolate chips and dried berries, and stir in 1/2 cup coconut flakes and 1/2 cup chopped dried mango.