Becel Plant-Based "Butter" Tarts
Plant-based meets patriotic with this Canadian classic. Rich, flaky, perfectly sweet – a dozen may not be enough
Prep time

20 min

Servings

12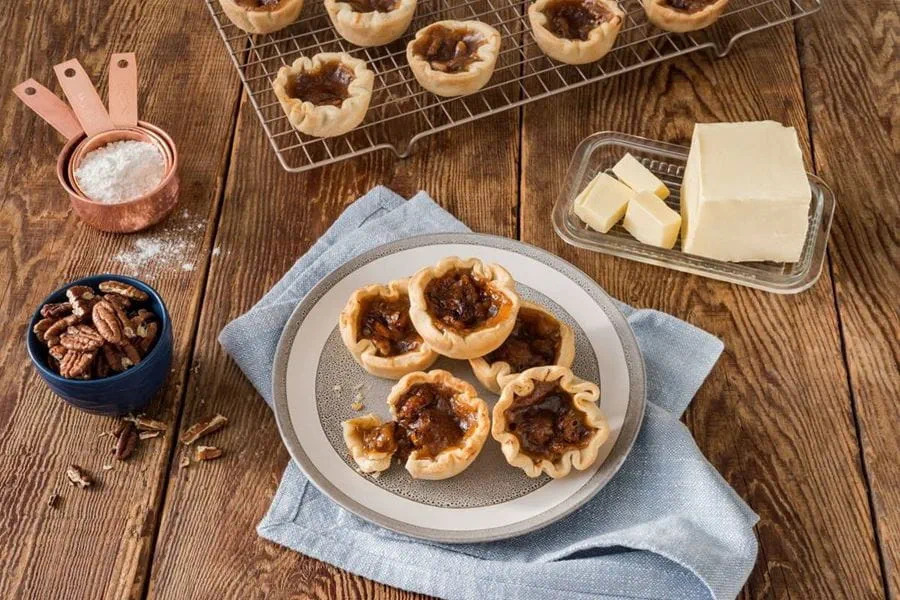 Ingredients
1 1/2 cups (375 mL) all-purpose flour
1/4 tsp. (1 mL) salt 1/4 tsp. (1 mL) salt
4 oz. (125 mL) Becel® Plant-Based Unsalted Bricks, divided
Plus additional 2 tbsp Becel® Plant-Based Unsalted Bricks
3 Tbsp. (45 mL) iced water
2 tsp. (10 mL) white vinegar, divdied
1/2 cup (125 mL) firmly packed light brown sugar
1/4 cup (60 mL) corn syrup
2 Tbsp. (30 mL) pure maple syrup
1 egg *
1 tsp. (5 mL) vanilla extract
1/2 cup (125 mL) chopped pecans 1/2 cup (125 mL) chopped pecans
Nutritional Guidelines (per serving)
(Nutrition information is calculated using an ingredient database and should be considered an estimate.)
Instructions
Preheat oven to 400°F (205°C). Grease 12 nonstick muffin cups; set aside.
Combine flour with salt in medium bowl. Cut in 1/2 cup Becel Unsalted Plant-Based Bricks with pastry blender or finger tips just until large crumbs begin to form. Whisk water with 1 tsp. (5 mL) vinegar. Add just enough water mixture to flour mixture to form dough, while stirring flour mixture with fork. Shape into a ball, then cover with plastic wrap; flatten dough into a disc. Refrigerate at least 30 minutes.
Whisk brown sugar, corn syrup, maple syrup, egg, remaining 2 Tbsp. (30 mL) melted Becel Unsalted Plant-Based Bricks , vanilla and remaining tsp (5 mL) vinegar. Roll dough on lightly floured surface about 0.5 cm thick. Cut out 12 (4-in/10 cm) circles, using a lightly floured glass or circle cutter. Press circles into prepared muffin cups. Fill cups evenly with pecans, then brown sugar mixture.
Bake 10 minutes then reduce oven temperature to 375°F (190°C). Bake an additional 10 minutes or until deep golden. Let stand in pan 2 minutes, then remove to wire rack and cool completely.
During this time, when ingredients may be hard to find, we've listed some easy substitutions.
Substitute cider vinegar or lemon juice for white vinegar.
Substitute honey or corn syrup for maple syrup.
Substitute rum, brandy or maple syrup for vanilla. Or the vanilla can be omitted.
Instead of chopped pecans, use any chopped nut, raisins, currants or chocolate chips.
If you don't have Becel Plant-Based Bricks, any Becel product will work.
* To make this recipe vegan, omit the egg in the filling and replace with an additional 2 tablespoons (30 mL) melted Becel and 2-1/2 to 3 teaspoons (12 mL to 15 mL) cornstarch.
Becel Plant-Based Butter Tarts