Blueberry Swirl Scones
Cooking time

15 min

Prep time

10 min

Servings

8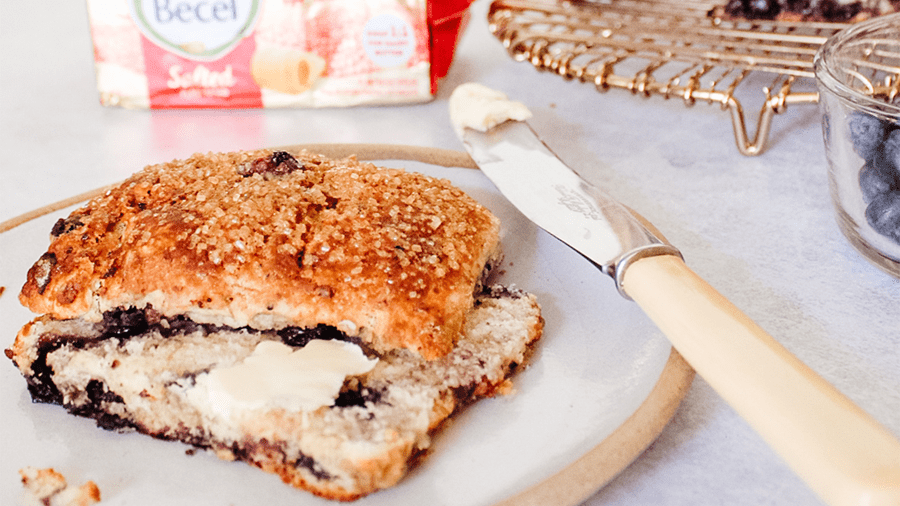 Ingredients
2 1/2 cups all-purpose flour
2 tablespoons granulated sugar
1 tablespoon baking powder
1/2 teaspoon salt
1/2 cup Becel® Plant-Based Salted Bricks, grated on a box grater
2 eggs
2/3 cup buttermilk
1 cup blueberries
1/2 cup blueberry jam
2 tablespoons demerara sugar
Nutritional Guidelines (per serving)
(Nutrition information is calculated using an ingredient database and should be considered an estimate.)
Instructions
Preheat oven to 425ºF and line a baking sheet with parchment paper.
In a bowl, whisk together flour, sugar, baking powder, and salt.
Add the grated Becel Plant-Based Brick to the flour mixture and toss. Mix in one egg and slowly add the buttermilk and mix until just combined. Be careful not to overmix.
Fold in the blueberries. Add the blueberry jam and stir to swirl it in.
Turn the dough onto a floured surface and then pat into 2-inch-thick rectangle. Cut the dough into 6-8 squares, depending on how large you want your scones. Place pieces, about 2 inches apart on the prepared baking sheets.
Whisk one egg in a small bowl. Brush each scone with egg and sprinkle with coarse sugar.
Bake until golden brown, 15 to 18 minutes, rotating sheets halfway through. Let the scones cool slightly.
Serve with a smear of Becel Plant-Based Brick and enjoy.