Falafel Salad With Tahini Dressing
Recipe courtesy of Kimberly Lallouz.
Cooking time

25 min

Prep time

20 min

Servings

6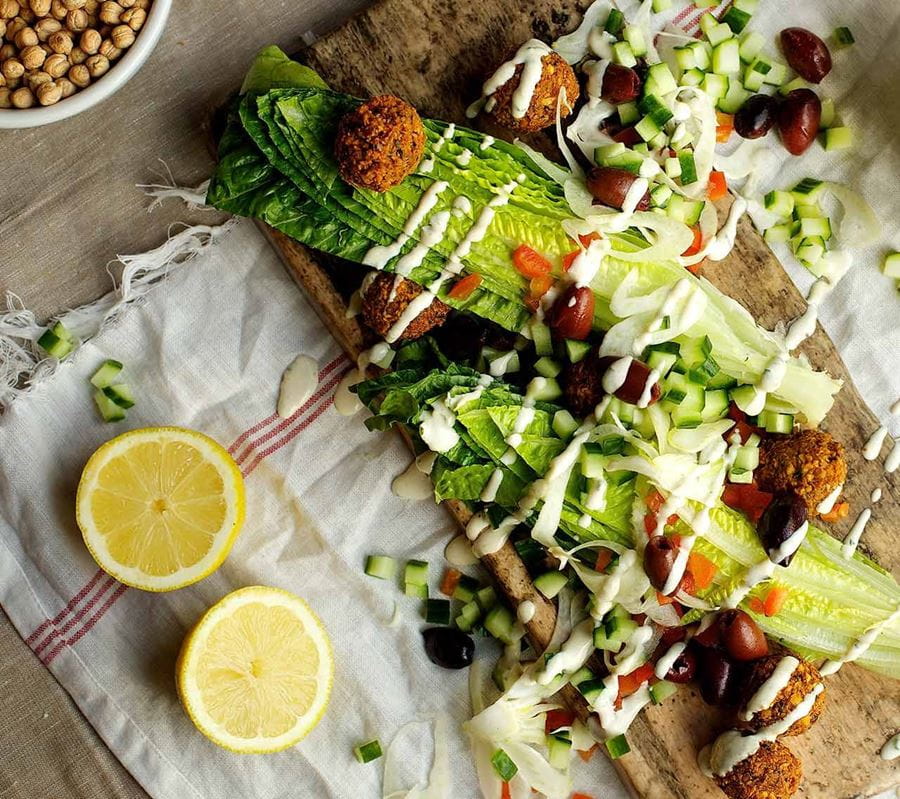 Ingredients
2 cups (500 mL) Becel® with Avocado Oil margarine for frying
2 cups (500 mL) organic chickpeas raw, (soaked overnight, water drained)
1 small onion
4 cloves garlic
1/4 cup (60 mL) fresh chopped parsley
1 tsp. (5 mL) ground coriander
1/4 tsp. (5 mL) cayenne
1/4 tsp. (1 mL) black pepper
pinch ground cardamom
2 eggs
1 1/2 Tbsp. (22 mL) all-purpose flour
1 3/4 tsp. (8 mL) salt
1 head romaine lettuce, thoroughly washed, dried and cut in 6 length-wise
2 ripe tomatoes diced
4 Lebanese cucumbers, diced (skin on)
1/4 red onion, chopped very thinly
1 fennel bulb, chopped and kept in cold water with ice and a slice of lemon until plating to avoid oxidization.
1 cup (250 mL) pitted Kalamata olives
fresh parsley to garnish
Tahini dressing:
1/3 cup (75 mL) tahini (sesame paste)
3 Tbsp. (45 mL) Becel® Olive Oil Plus™
1/4 cup (75 mL) lemon juice Plus extra 1 Tbsp.
2 cloves garlic, minced
1/3 cup (75 mL) water, (more if needed for desired thickness)
Nutritional Guidelines (per serving)
(Nutrition information is calculated using an ingredient database and should be considered an estimate.)
Instructions
Heat Becel® with Avocado Oil margarine in a skillet or frying pan on high heat to 350° F (180° C).
Mix the chickpeas, onion, garlic, parsley and spices in the blender until somewhat smooth. Add eggs one at a time and add the flour at the end. With a small ice cream scooper or spoon, make balls.
Fry falafel balls in pan on all sides until golden brown. Once cooked, let drain on paper towel and season with salt immediately.
Take 6 dinner plates and place romaine lettuce on each dish, fanning it out for presentation and keeping the base on.
Drizzle with a little Becel Olive Plus™ Oil Blend, add equal portions of cucumber, tomato, fresh fennel, black olives and onion on top of the lettuce in a rustic style, then add 4 falafel balls on each plate.
For the dressing, add all the ingredients in a blender and pulse until smooth. You can add additional cold water if the vinaigrette is too thick! Drizzle on top of salad and serve!
Serve with grilled whole wheat pita on the side, if desired.
Tip: Fennel fawns can be used as edible garnish.