Fully Loaded Cornbread
Cooking time

35 min

Prep time

20 min

Servings

10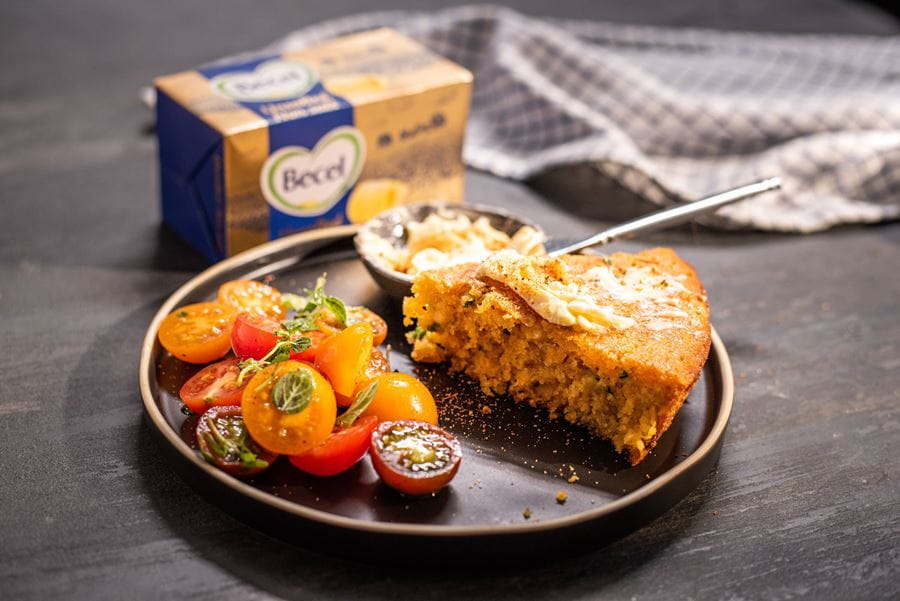 Ingredients
1 cup (250 mL) cornmeal
1 cup (250 mL) all-purpose flour
2 tablespoons (30 mL) baking powder
1 cup (250 mL) non-dairy milk
1 tablespoon (15 mL) apple cider vinegar
1/2 cup (125 mL) Becel® Plant-Based Unsalted Bricks
1/2 cup (125 mL) brown sugar
2 eggs
1 (250g) package Violife® Just Like Cheddar shreds
1 cup (250 mL) corn kernels
1 jalapeno pepper, deseeded and finely chopped
Nutritional Guidelines (per serving)
(Nutrition information is calculated using an ingredient database and should be considered an estimate.)
Instructions
Preheat oven to 400°F.
Combine cornmeal, flour and baking powder.
Combine non dairy milk and vinegar.
Cream 1/2 cup Becel® Plant-Based Bricks with brown sugar until light and fluffy. Add in eggs and continue to beat.
Add in cornmeal mixture and stir until just combined. Stir in Violife® Just Like Cheddar Shreds, corn and jalapeño.
Heat a 10-inch cast iron pan over medium-high.
Melt the remaining 2 tablespoons of Becel® Plant-Based Bricks and swirl pan to coat.
Pour batter into pan and place in the oven until golden and cooked through, about 35 minutes.