Grilled Cheese and Tomato Soup
Prep time

5 min

Servings

Portions 4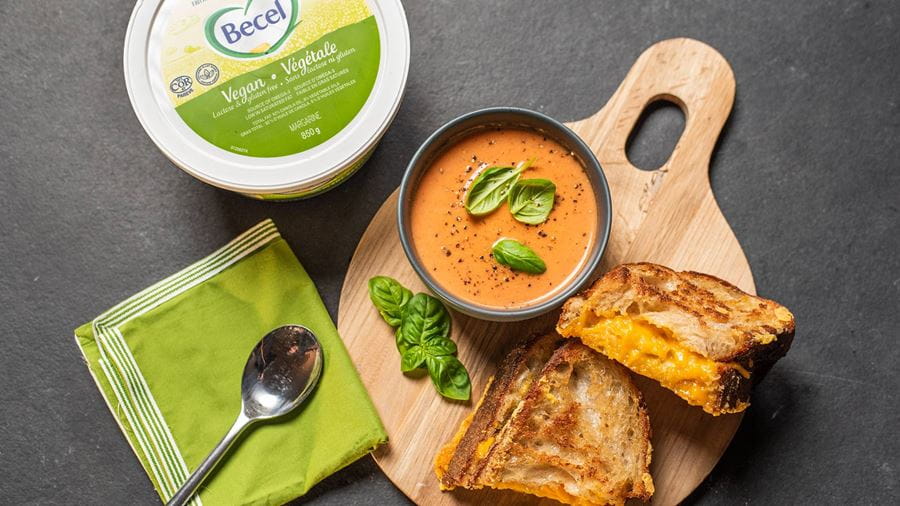 Ingredients
Grilled Cheese Sandwich (1 serving)
4 Violife Cheddar Style slices
2 tbsps Becel® Vegan
2 slices sourdough bread
Tomato Soup (4 servings)
5 oz Violife Original Creamy
1 tbsp Becel® Vegan
1 onion, sliced
3 cloves garlic, sliced
14 oz can whole peeled tomatoes
1 cup of water
1 can coconut milk
1 tbsp Italian dried herbs
1/2 tsp salt and pepper
fresh basil to garnish
Nutritional Guidelines (per serving)
(Nutrition information is calculated using an ingredient database and should be considered an estimate.)
Instructions
Grilled Cheese
Spread 1 tbsp of Becel Vegan on one side of each slice of bread
In a hot skillet over medium heat, place the bread slices Becel-side down. Top two bread slices with 2 Violife Cheddar Style slices each and close with the other bread slices
Spread again with another tbsp of Becel Vegan
Flip when the bread is golden brown on one side and grill for another 2 minutes
Tomato Soup
In a medium pot over medium heat, sauté the onion in Becel Vegan for 7-10 minutes until golden and caramelised.
Add in the garlic cloves for the last 2 minutes and stir. Pour in tomatoes and use a spoon to break them up.
Pour in water, coconut milk, Italian herbs, salt and pepper and simmer for 10 more minutes
Use an electric hand mixer to blitz the soup. When it has been well-blended, add half of the Violife Creamy Original and use a whisk to combine until the soup is nice and creamy.
Garnish with fresh basil leaves and a dollop of Violife Creamy Original. Serve alongside the grilled sandwich!
If you prefer your Violife Cheddar style slices even more melted, place on a lined baking tray and pop in the oven heated at 350F for another 5 minutes. For an extra cheesy sandwich, double up the Violife Cheddar style slices in your sandwich!