Cumin and Turmeric-Spiced Basmati Rice
Every great main dish needs a partner at its side. You can count on this simple, but flavour-packed rice.
Prep time

5 min

Servings

Portions 6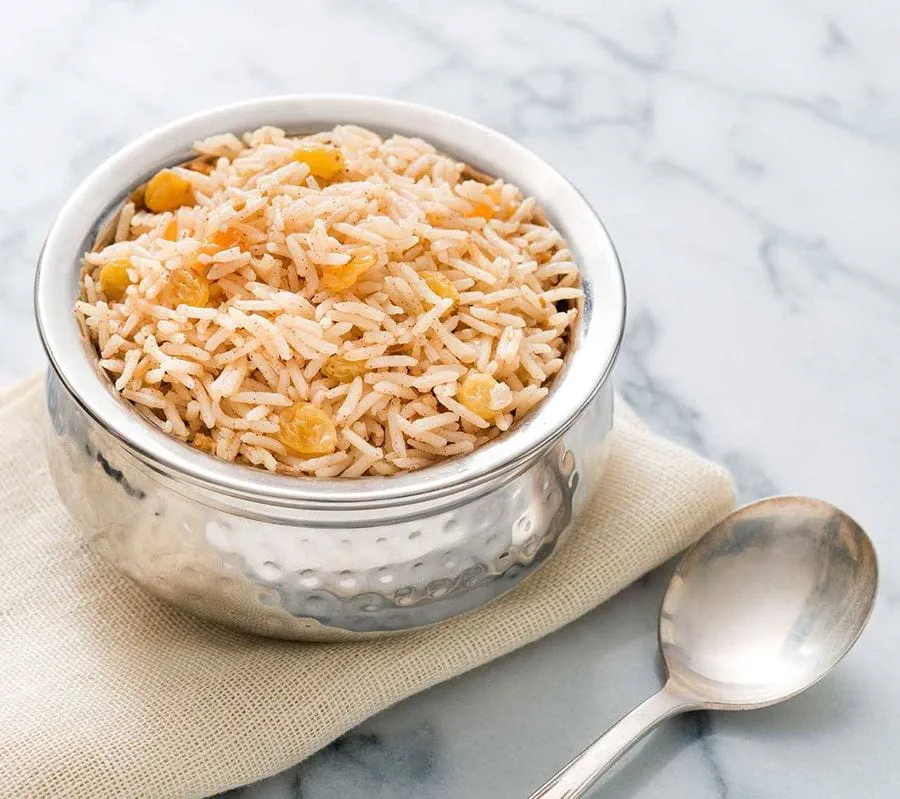 Ingredients
2 Tbsp. (30 mL) Becel® Original margarine
1 small onion, thinly sliced
2 cloves garlic, chopped
1/4 tsp. (1 mL) cumin seeds
1/4 tsp. (1 mL) turmeric
1/4 tsp. (1 mL) ground cinnamon
1/4 tsp. (1 mL) ground black pepper
1/4 tsp. (1 mL) salt
1 cup (250 mL) basmati rice
2 cups (500 mL) reduced sodium chicken broth
1/3 cup (75 mL) golden raisins
Nutritional Guidelines (per serving)
(Nutrition information is calculated using an ingredient database and should be considered an estimate.)
Instructions
Melt Becel® Original margarine in large saucepan over medium-high heat and cook onion, stirring occasionally, until lightly golden, about 5 minutes.
Stir in garlic and cook 30 seconds. Add cumin seeds, turmeric, cinnamon, pepper and salt and cook, stirring constantly, 1 minute.
Stir in rice and broth. Bring to a boil over high heat. Reduce heat to low and simmer covered, until rice is tender and liquid is absorbed, about 15 minutes.
Stir in raisins and let stand covered 5 minutes. Just before serving fluff with fork.
This recipe has been evaluated by the Heart and Stroke Foundation registered dietitians and is part of a healthy diet based on the recommendations in Canada's Food Guide.