Roasted Carrot and Potato Soup
Leaves crunched underfoot, and we dug out our favourite sweaters. We needed a recipe to match. And this was perfect.
Cooking time

30 min

Prep time

15 min

Servings

4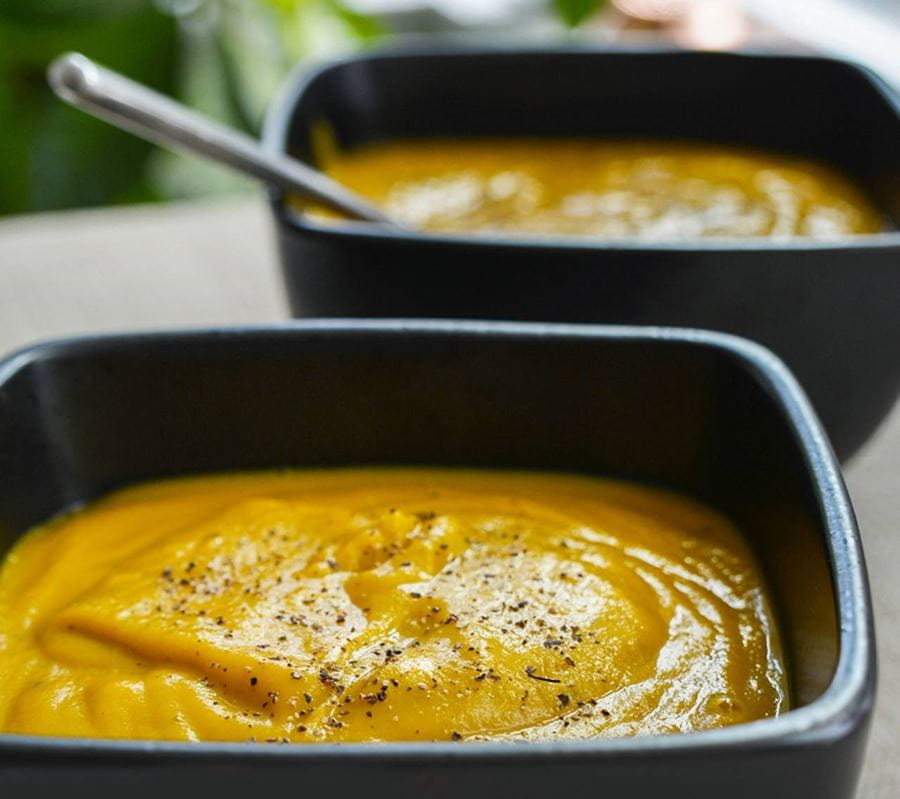 Ingredients
1 1/2 cups (350 mL) finely chopped carrots (about 3 small)
1 medium baking potato, finely chopped
3/4 cup (175 mL) finely chopped celery, (about 1 stalk)
3/4 cup (175 mL) finely chopped onion
1 clove garlic, halved
2 Tbsp. (30 mL) Becel® Plant-Based Salted Bricks. melted
1 1/2 cups (350 mL) fat free reduced sodium vegetable broth, heated to boiling
1/4 cup (60 mL) loosely packed fresh basil leaves or 5 mL dried basil, thinly sliced
2 Tbsp. (30 mL) grated Pecorino Romano cheese
1/8 tsp. (0.5 mL) ground black pepper
Nutritional Guidelines (per serving)
(Nutrition information is calculated using an ingredient database and should be considered an estimate.)
Instructions
Preheat oven to 400°F (205°C).
Arrange carrots, potato, celery, onion and garlic in small shallow roasting pan; drizzle with melted Becel® Plant-Based Bricks.
Roast, stirring once, until vegetables are tender and just starting to brown, about 25 minutes.
Process heated broth, basil and roasted vegetables in blender until coarsely blended; thin with water to desired consistency. Stir in cheese and black pepper.
During this time, when ingredients may be hard to find, we've listed some easy substitutions. -If you don't have carrots, you really can used any of your favorite vegetables. Try cauliflower, broccoli, red bell pepper or butternut squash. -Potato helps thicken the soup. If you don't have a potato, add about 1/2 cup cooked white or brown rice when pureeing the vegetable mixture. -If you don't have celery, fresh fennel is a goods substitute but does have a stronger flavor. You can also substitute 1 teaspoon (5 mL) celery seed; or 1/2 teaspoon (2 mL) celery salt. -Use green onion or shallots instead of onion. -Use 1/2 teaspoon (2 mL) garlic powder instead of fresh garlic. -Instead of Pecorino Romano, use fresh grated Parmesan, feta, goat cheese or nutritional yeast. -Use 1 teaspoon (5 mL) dried basil instead of fresh basil. Or use any other fresh herb, like thyme, sage or parsley. Add 2 tablespoons (30 mL) to start as some herbs have a stronger flavor. -Use water instead of vegetable broth. -Use any Becel product instead of Becel Plant-Based Bricks.