Spinach and Violife Feta Pastry Triangles
Cooking time

15 min

Prep time

30 min

Servings

10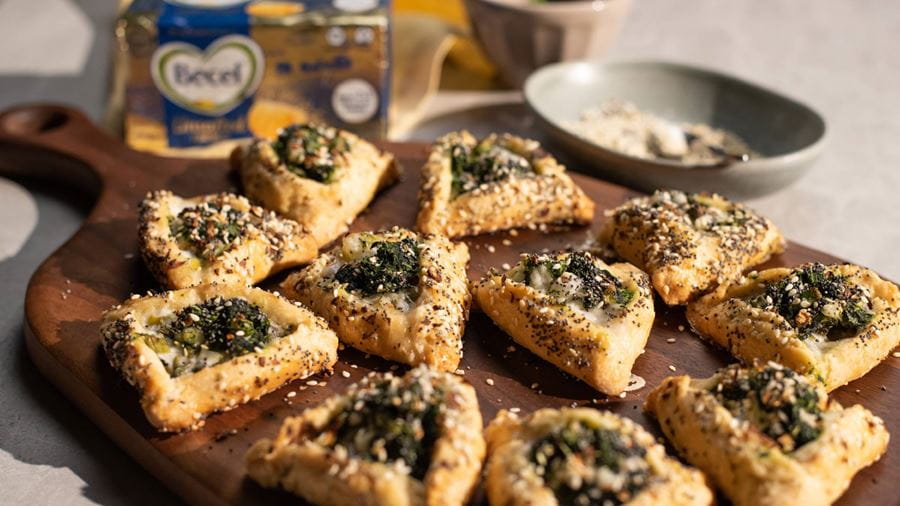 Ingredients
3/4 cup cold Becel® Plant-Based Unsalted Bricks
2 cups all-purpose flour
1 teaspoon salt
2 eggs
150 grams frozen chopped spinach, thawed
1/2 cup Violife Feta Style Block, crumbled
1/4 cup green onion
2 teaspoons sesame seeds
1 teaspoon poppy seeds
1 teaspoon dehydrated onion
Nutritional Guidelines (per serving)
(Nutrition information is calculated using an ingredient database and should be considered an estimate.)
Instructions
Grate the Becel Plant Butter on a cheese grater.
In a large bowl, blend the Becel Plant Butter with the flour and salt. Use your fingertips to blend until the mixture looks like small pebbles.
Add 1 egg to the flour mixture (keep 1 egg aside for pastry egg wash). Gently stir with a wooden spoon until a shaggy dough comes together. Use your hands to knead into a smooth dough. Form into a disk and let rest in the refrigerator for a minimum of 30 minutes or overnight.
Prepare two baking sheets lined with parchment. Preheat the oven to 375F.
Meanwhile, make the filling. First, wring out the water from the spinach by wrapping in paper towel or cheese cloth and squeezing until dry.
Stir the spinach with Violife Feta, green onions, and season with salt.
Roll the dough out into a ¼ inch thick sheet. Using a 3 inch circle cutter, cut circles out of the dough sheet. Collect scraps and repeat until you have about 10-12 circles.
Transfer the dough circles onto the prepared baking sheets.
Divide the spinach filling into the centre of each circle.
Mix the sesame seeds, poppy seeds and dehydrated onion in a small bowl.
Beat the remaining egg in a small bowl. Brush the egg wash on the periphery of each circle and pinch to form triangles. Brush the pastry with egg wash and sprinkle with seed and onion mixture.
Bake until golden, about 15 minutes. Let cool for 10 minutes and serve.
To make these pastry triangles vegan, use a vegan egg substitute such as flaxseed egg. For each egg you need to replace, combine 1 tbsp ground flaxseed with 3 tbsp water and let stand for 10 minutes to thicken before adding to your other ingredients.