Vegan Mini Pavlovas with raspberries and pistachios
Give your guests a mouthwatering Pavlovian response with our elegant, beautiful Vegan Pavlovas with raspberries and pistachios.
Cooking time

1 hr

Prep time

25 min

Servings

6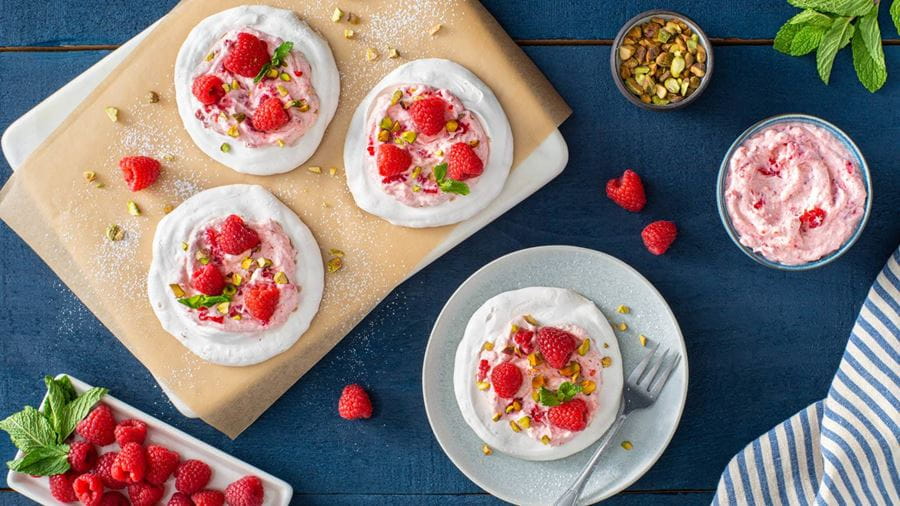 Ingredients
For the pavlovas
3/4 cup (175mL) organic cane sugar
4 ounces (125g) aquafaba * see notes
2 teaspoons (10mL) cornstarch
3/4 teaspoons (3mL) vanilla extract
1/4 teaspoon (1mL) cream of tartar
For the raspberry lemon whipped cream
1/2 cup (125mL) Becel® Plant-based Whipping Cream
1 teaspoon (5mL) lemon zest
1/2-1 teaspoon (2-5mL) fresh lemon juice
1 tablespoon (15mL) icing sugar
1/2 cup (125mL) raspberries, chopped
Toppings:
Raspberries + chopped pistachio
Nutritional Guidelines (per serving)
(Nutrition information is calculated using an ingredient database and should be considered an estimate.)
Instructions
For the vegan pavlovas
Line 2 baking sheets with parchment paper.
Position one oven rack closer to the top of the oven. Preheat to 300°F (150°C ).
Pour aquafaba and sugar in a microwave-safe bowl. Microwave, whisking every 30 seconds, until sugar is dissolved. Let the mixture cool slightly, about 10 minutes.
Transfer the mixture to the bowl of an electric mixer and whisk in cornstarch.
Add vanilla and cream of tartar and whip on high speed for 10-15 minutes, until stiff and glossy peaks form. It will look and feel just like meringue made with egg whites.
Scoop or pipe the mixture into 6 circles, about 1/2'' tall (1.25 cm), on the prepared baking sheets. Gently form each into a nest shape using the back of a spoon or an offset spatula.
Transfer sheets to oven, close the door, and immediately turn down the oven temperature to 200°F (90°C). Bake for 60 minutes. Turn off oven, and let the pavlovas cool, in the oven, for at least 1 hour but preferably overnight. To prevent cracking or collapsing, do not open the oven door during the baking or cooling process.
For the raspberry lemon whipped cream
Whip the Becel® Plant-based Whipping Cream, lemon zest and juice, and icing sugar using a hand mixer. Whip for 4-6 minutes. Gently fold in the chopped raspberries.
To assemble:
Pipe raspberry lemon whipped cream onto the center of each pavlova. Arrange raspberries and chopped pistachios on top. Finish the pavlovas with a sprinkling of lemon zest.
*Drain a can of chickpeas and RESERVE the liquid. The liquid is the aquafaba.