Vegan Black Bean Tacos
Cooking time

Prep time

Portions 4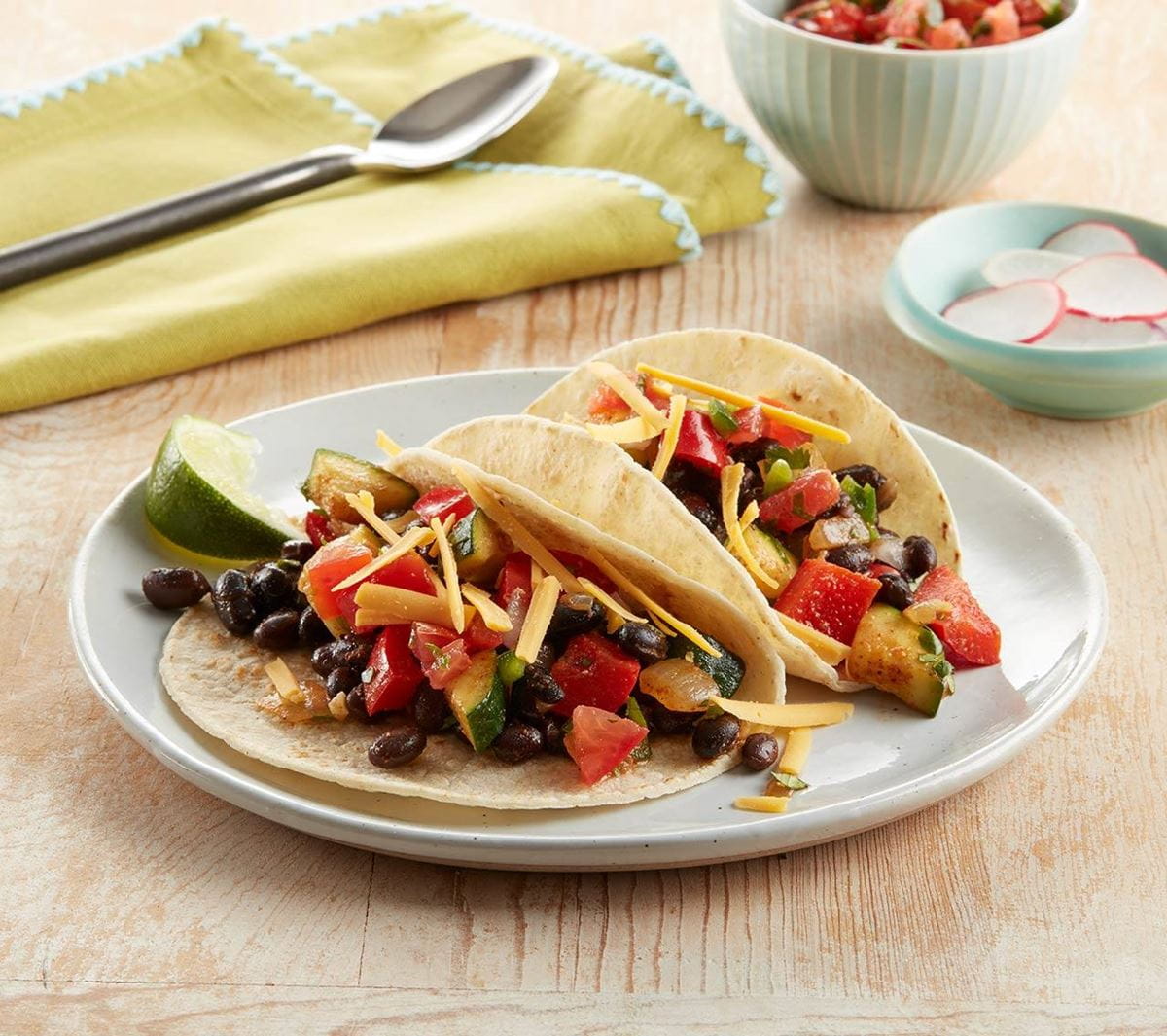 Ingredients
1/4 cup (60 mL) Becel® Vegan margarine
2 small zucchini, chopped
1 small red bell pepper, chopped
1 small onion, chopped
2 tsp. (10 mL) chili powder
1 clove garlic, finely chopped
1/2 tsp. (2 mL) salt
2 cups (500 mL) reduced sodium black beans, rinsed and drained
12 corn tortillas, warmed
4 cups (1 L) shredded romaine lettuce
1/4 cup (60 mL) chopped fresh cilantro leaves
1 large lime, cut into wedges
| | |
| --- | --- |
| Energy (kcal) | 0 kcal |
| Energy (kJ) | 0 kJ |
| Protein (g) | 0.0 g |
| Carbohydrate incl. fibre (g) | 0.0 g |
| Carbohydrate excl. fibre (g) | 0.0 g |
| Sugar (g) | 0.0 g |
| Fibre (g) | 0.0 g |
| Fat (g) | 0.0 g |
| Saturated fat (g) | 0.0 g |
| Unsaturated fat (g) | 0.0 g |
| Monounsaturated fat (g) | 0.0 g |
| Polyunsaturated fat (g) | 0.0 g |
| Trans fat (g) | 0.0 g |
| Cholesterol (mg) | 0 mg |
| Sodium (mg) | 0 mg |
| Salt (g) | 0.00 g |
| Vitamin A (IU) | 0 IU |
| Vitamin C (mg) | 0.0 mg |
| Calcium (mg) | 0 mg |
| Iron (mg) | 0.00 mg |
| Potassium (mg) | 0 mg |
Instructions
Melt Becel® Vegan margarine in large nonstick skillet over medium-high heat and cook zucchini, red pepper, onion, chili powder, garlic and salt, stirring occasionally, until vegetables are tender, about 5 minutes.
Stir in beans and cook until heated through, about 2 minutes. Stir in cilantro.
Spoon bean mixture into tortillas. Top with lettuce and serve with lime wedges.
TIP:
Serve with chopped avocado, shredded vegan cheese and salsa, if desired.