Crunchy Guacamole Bites with Salsa Rosa Dip
Holy guacamole! You're going to love our appetizer, packed with avocado, jalapeno and red onion. Recipe was made exclusively for Becel by Chef Matt Dean Pettit.
Cooking time

12 min

Prep time

30 min

Servings

Portions 6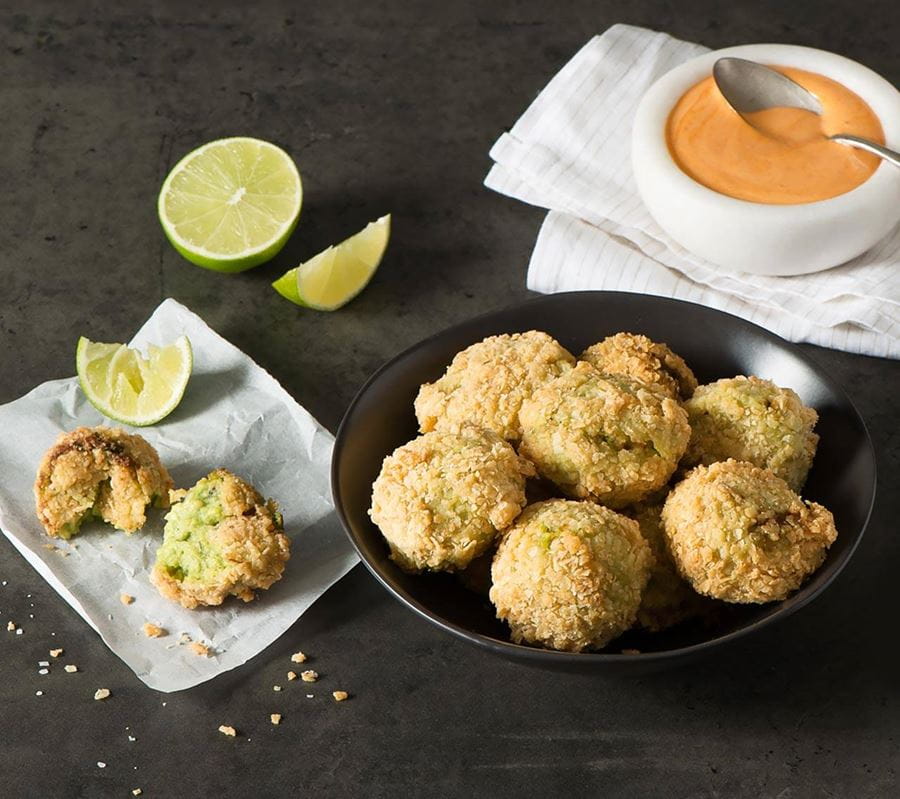 Ingredients
SALSA ROSA DIP:
1/2 cup (125 ml) ketchup
1/2 cup (125 ml) mayonnaise
CRUNCHY GUACAMOLE BITES:
2 large avocados, mashed
140 ml divided 1 Tbsp. (15 ml) PLUS 1/2 cup (125 ml) Becel® with Avocado Oil
4 sprigs fresh cilantro, finely chopped
1/2 jalapeno pepper, seeded and finely chopped
1/4 red onion, chopped
1 tsp (5 ml) ground cumin
2 lime juice
2 cups (500 ml) Becel® Avo Plus™ Oild blend (for frying)
1 cup (250 ml) chickpea flour
8 fresh corn tortillas, baked and finely crushed
Nutritional Guidelines (per serving)
(Nutrition information is calculated using an ingredient database and should be considered an estimate.)
Instructions
For Salsa Rosa Dip, combine ketchup and mayonnaise in small bowl. Set aside, refrigerated, until ready to serve.
For Crunchy Guacamole Bites, in a medium bowl, combine avocados, 1 Tbsp. (15 mL) Becel® with Avocado Oil margarine, cilantro, jalapeño, red onion, cumin and fresh lime juice.
Working on a clean surface, roll 1 Tbsp. (15 mL) guacamole into a firmly formed ball. Wrap tightly with plastic wrap. Continue until all guacamole has been rolled into balls, then place in the freezer for 45 minutes to 1 hour to set.

Once guacamole balls are set, add Becel® Oil to a medium size deep pot. Heat over medium-high heat to 350° F (180° C). While the oil is heating, prepare your dredging station. Melt remaining 1/2 cup (125 mL) margarine and place in a bowl. Place chickpea flour and crushed tortillas into separate bowls.
Working with one guacamole ball at a time, roll it in chickpea flour, coating evenly. Dip into melted margarine, then coat with crushed tortillas. Ensure each ball is fully coated in a layer of tortilla crumbs.
When oil reaches temperature, carefully lower the guacamole balls into the oil, working in small batches as to not overcrowd the pot. Lightly fry for 2 to 3 minutes, or until crisp and golden brown. Carefully remove guacamole balls from the pot and place onto a paper towel-lined plate to remove excess oil. Serve hot with the Salsa Rosa dip!