Four Fruit Cobbler
When it comes to adding fruit to cobbler, we firmly believe "the more, the merrier." Not one, not two, not three, but four fruits, please.
Cooking time

45 min

Prep time

30 min

Servings

8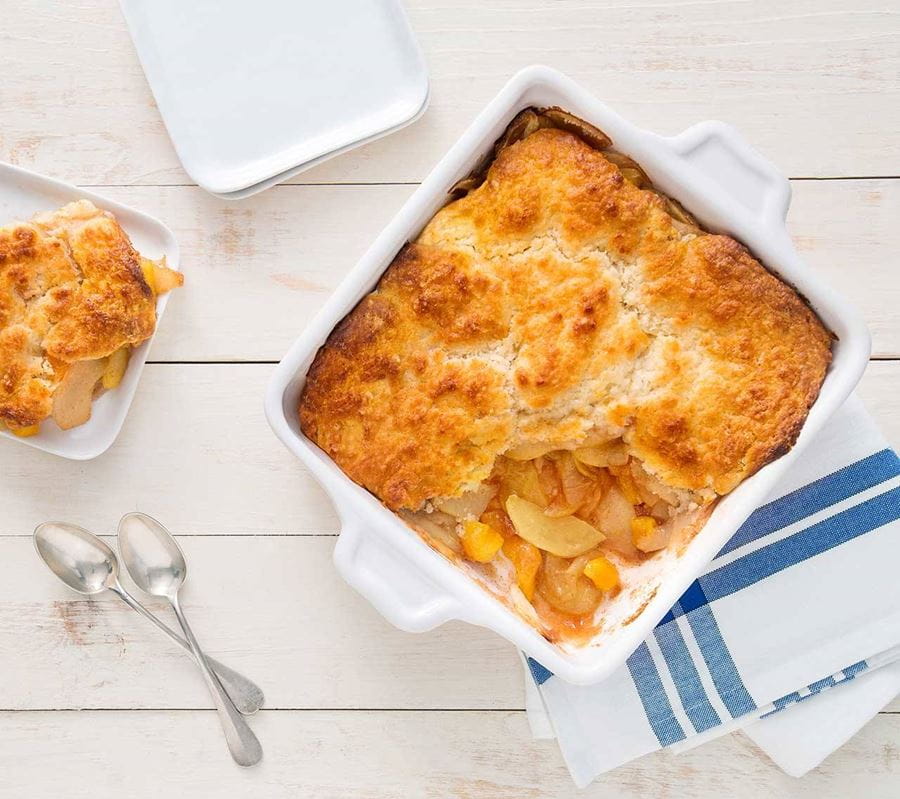 Ingredients
1/4 cup (90 mL) PLUS 2 Tbsp. (30 mL) sugar, divided
2 Tbsp. (30 mL) cornstarch
1 tsp. (5 mL) ground cinnamon
3 medium apples, cored, peeled and sliced
3 medium pears
1/2 cup (125 mL) dried apricots, thinly sliced
1/2 cup (125 mL) orange juice
1/2 cup (125 mL) water
3/4 cup (175 mL) all-purpose flour
3/4 tsp. (4 mL) baking powder
1/4 tsp. (1 mL) baking soda
1/4 tsp. (1 mL) salt
3 Tbsp. (45 mL) Becel® Light margarine
1/2 cup (125 mL) plain 1% yogurt
1 tsp. (5 mL) grated orange peel
Nutritional Guidelines (per serving)
(Nutrition information is calculated using an ingredient database and should be considered an estimate.)
Instructions
Preheat oven to 400°F (200°C).
Combine 1/4 cup (60 mL) sugar, cornstarch and cinnamon in medium bowl. Toss with apples, pears and apricots. Spoon into 2½-quart (2.5 L) or 9-in. (23 cm) square baking dish, then drizzle with orange juice and water. Bake uncovered 20 minutes.
Mix flour, remaining 2 Tbsp. (30 mL.) sugar, baking powder, baking soda and salt in medium bowl. Cut in Becel® Light margarine with pastry blender or two knives until mixture is size of coarse crumbs; set aside. Combine yogurt with orange peel. Stir into flour mixture just until moistened. Drop 8 mounds with large spoon onto fruit. Bake an additional 20 minutes or until golden brown. Serve warm.
Note: may be made in individual soufflé dishes, cooking time is 15 to 20 minutes. Serve with vanilla ice cream. Please see nutrition information for sugar content.