Vegetable Crab Cake Casserole Au Gratin
Cooking time

20 min

Prep time

15 min

Servings

2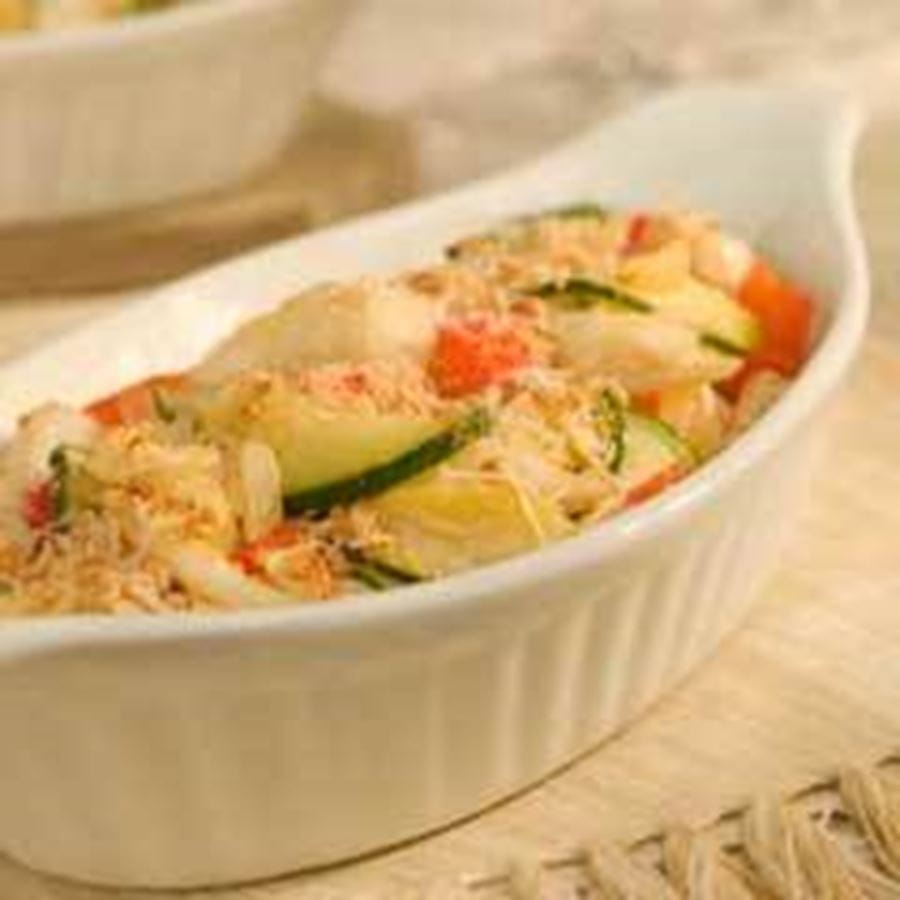 Ingredients
2 Tbsp. (30 mL) Becel® Buttery Taste margarine*
1 large zucchini, halved and thinly sliced
1 cup (250 mL) finely chopped red bell pepper
1/2 cup (125 mL) finely chopped onion
6 ounces (180 g) fresh crab meat or 1 6-oz. can crab meat, drained
1 Tbsp. (15 mL) Hellmann's® 1/2 The Fat mayonnaise-type dressing
1 Tbsp. (15 mL) lemon juice
4 whole grain crackers, crushed
1 Tbsp. (15 mL) grated Parmesan cheese
Nutritional Guidelines (per serving)
(Nutrition information is calculated using an ingredient database and should be considered an estimate.)
Instructions
Preheat oven to 425°F (220 C).
Melt 1 Tbsp. (15 mL) Becel® Buttery Taste margarine in large nonstick skillet over medium-high heat and cook zucchini, red pepper and onion, stirring occasionally, until vegetables are tender, about 5 minutes. Remove from heat. Stir in crab meat, mayonnaise-type dressing and lemon juice. Season, if desired, with ground black pepper, then turn into two 8 oz. (250 mL) shallow casserole dishes.
Combine cracker crumbs with remaining 1 tbsp. (15 mL) margarine in small bowl. Evenly top casseroles with crumb topping, then sprinkle with cheese. Bake until heated through and topping is golden brown, about 15 minutes.